ABOUT MUSCLE MAKER GRILL
Driven by a passion for conveniently healthy food, the first Muscle Maker Grill store opened just over two decades ago in Colonia, New Jersey. What began as a small smoothie shop serving tasty, healthy meals to loyal customers on the side took off, kick-starting the quest for a healthy alternative to fast food.
In 2007, Muscle Maker Grill chose to franchise, spreading its mission of offering health-conscious customers smart and affordable meals on-the-go. Growing to more than 50 quick-service locations in 14 states across the U.S., Muscle Maker Grill found success targeting a specific fitness-driven market.
When American Restaurant Holdings acquired Muscle Maker Grill in 2014 with plans to grow the franchise even further, they realized some changes to the brand and store design were needed. The goal was to modernize the Muscle Maker Grill image and effectively engage a broader market. Muscle Maker Grill and American Restaurant Holdings turned to Coloredge for help.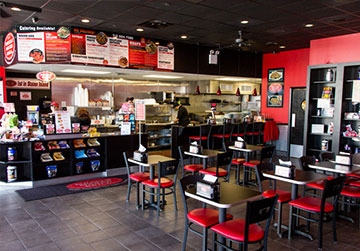 Original Store Design, Before Rebrand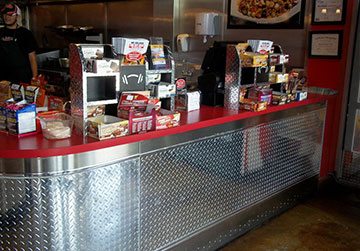 RISING TO THE CHALLENGE
Muscle Maker Grill and Coloredge began by determining what needed to change to achieve their goals.
Challenges included:
• Broadening from a niche, fitness-oriented market to a larger, family-friendly customer base
• Upholding Muscle Maker Grill's core values in the company's rebrand
• Implementing a cleaner, visually-crisp look and feel to the restaurant
• Making the rebrand marketable worldwide
DEVELOPING THE MUSCLE FOR MUSCLE MAKER GRILL
As part of improving the overall customer experience, Coloredge set out to match Muscle Maker Grill's branding with the quality of its ingredients. A simpler, more upscale design would convey to customers a healthy, upbeat dining experience. To gain insights into Muscle Maker Grill's customers, Coloredge started with the basics. This meant researching the brand's target demographics to determine the strengths and weaknesses of the existing brand with the goal of expanding the company to a larger market.
Then, it was on to the design component. Coloredge created rounds of store renderings and logo explorations. Focus groups were held, testing new designs in front of participants. The new ideas were a hit, with uniformly positive responses to the more energized, inviting look. Muscle Maker Grill's new visual appearance comprise softer colors amid a clean, uncluttered layout. The walls, tables and chairs reflect a healthier, more welcoming feel. And the natural wall colors, combined with a wood finish, produce a more family-friendly customer experience. A large, vibrant wall graphic of a colorful salad, with the words "Great Food with Your Health in Mind," promotes a dedication to fresh ingredients at Muscle Maker Grill.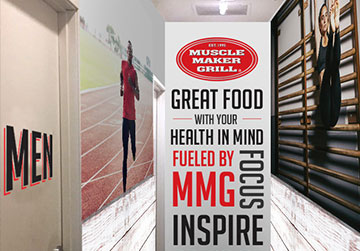 Approved Store Renderings
Inspired by the new look, Coloredge recommended Muscle Maker Grill take a different route with the term "muscle" by focusing on the heart, the most important muscle in the human body. Coloredge created a heart-shaped feature graphic that visually celebrates all the healthy, heart-friendly options Muscle Maker Grill customers can enjoy.
THE NEW AND IMPROVED MUSCLE MAKER GRILL
With Muscle Maker Grill busy opening 27 new locations in 2016 alone, and with plans to expand internationally, Coloredge will be there every step of the way, implementing the revitalized design in every new location. Coming soon are a new modernized website and sleek employee uniforms. Keeping pace with customer preferences, Coloredge has proposed building a mobile-first platform enabling online ordering – and helping grow Muscle Maker Grill's loyalty program.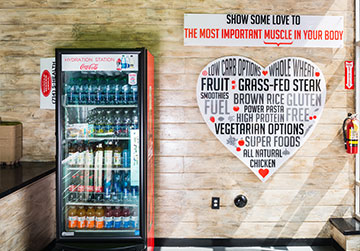 New Look, Heart-Shaped Feature Graphic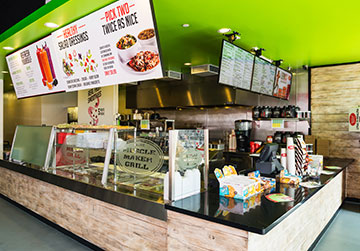 New Look, Clean and Inviting
Coloredge's comprehensive approach, with all its teams working under one roof – from brand strategy and digital marketing to graphics, production and installation – has been key to Muscle Maker Grill's success. Ranging from poster ideas all the way to full-scale restaurant overhauls, this alliance reflects Coloredge's diverse capabilities and commitment to understanding Muscle Maker Grill's brand DNA.
Combining Muscle Maker Grill's ingredients and passion with Coloredge's newly enhanced design, the Muscle Maker Grill brand is well-positioned to continue growing and providing healthy food for people everywhere.
---
Interested in sharing this case study? Download the full PDF here.
---