Millennials want the 'whole package'…and then some.
If today's consumer trends tell us anything, it's that marketing budgets shouldn't be spent on marketing…but on packaging. When it comes to the beauty sphere, younger brands are ditching the traditional marketing approach and catering to the packaging one.
Focusing on unique packaging and label designs are how beauty companies like Glossier are taking on the big names of the industry and saving money doing it. By letting the product market itself, indie beauty brands, according to a report by Kline Group, have experienced double digit growth between 2009 and 2014, more than four times the overall cosmetics market, are reinventing how brands and consumers think about and use packaging.
According to Nikki Baird of Forbes, Glossier reportedly thought about share-ability in product design – creating packaging and labels that helped the products look good when their customers took pictures in the backdrop of their own homes.
By investing in unique designs and packaging that fit into the lives and photo moments of its millennial buyers, Glossier bypassed the need for marketing by letting the product market itself.
In an interview with Eric Liaw at the StrictlyVC event, Weiss said that she sees Glossier as a content company and thinks of her products as the content.
"Many customers buy the products, photograph them (or photograph themselves using them/the result of using them), then share them on social media. Shipments come with sheets of stickers, encouraging further engagement."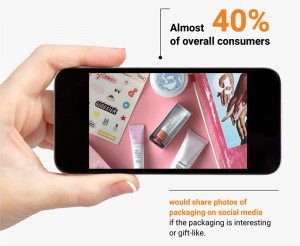 A good package is always the result of a good product. In today's digital age, however, a good marketing plan is now the result of a good package.
Focus Groups Replaced By Social Engagement
Rather than spending top dollar for consumer reports, focus groups and surveys, younger brands are streamlining the process by taking to the comment sections. For brands like Glossier, followers voted for their favorite hue in the comment of a post. The favorited color is now part of Glossier's packaging.
Eye Catching Colors Over Mind Boggling Descriptions
According to Simon Preece, director of effectiveness stuff at Elmwood, buying habits are purely instinctive and reactive. Eye-tracking studies show that consumers read on average only seven words in an entire shopping trip, buying instinctively by color, shape and familiarity of location. Best sellers succeed by appealing to the reptilian brain, which decides before logic has a chance.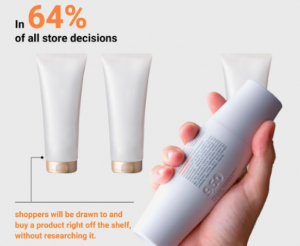 Creating Online Moments Instead of Over-The-Counter Ones
Since you no longer have customers walking past counters at the same rate they once did in beauty departments, creating online moments is the new way of making them stop by your brand.
According to the Mobile Makeover report, 66% of beauty shoppers use social media for inspiration, 70% for learning, 62% for advice and 46% use it to share their make up results.
Amy Cole, head of product marketing & emerging platforms, at Facebook and Instagram EMEA, added: "Beauty never stands still. The products, service and experiences that beauty shoppers look for from brands constantly evolve. Today, messages of beauty don't only come from runways and glossy magazine spreads but from peers, networks and influencers."
---