BACK TO NEWS
Comp24 Open House This Thursday in Atlanta!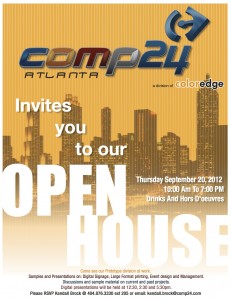 Come join us this Thursday, September 20, at Coloredge's Comp 24 Atlanta studio for our Open House event! Come check out our projects and learn what other services we can provide for you.
There will be talks and samples of our large format work, and presentations on re-touching, desktop work, and digital signage. We will also be presenting samples of NY's new equipment (Roland), which is geared more towards prototype work.
Our very own Brett. W. Chronerberry (Comp 24 Creative Director), Lisa Frye (Vice President of Sales), and Terry Tevis (CEO) will be attending. Some of our clients that will be attending are: Coke, Home Depot, Rubbermaid, Turner Broadcasting (TBS), and other local Atlanta Ad agencies. Will we see you there?
---