BACK TO FDA LABEL HQ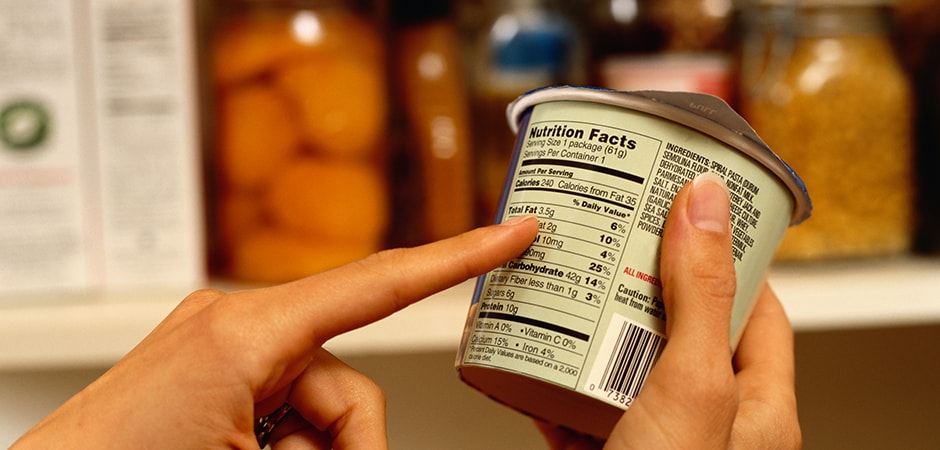 FDA's Looming Label Changes, and How Coloredge Can Help
In May, the FDA announced the impending doom many CPG companies were concerned about: FDA label changes. Dun duun duuun. For the first time since 1990, the FDA is requiring all consumable products companies to update their nutrition facts labels. And they have TWO YEARS to do so. Seems like forever, but time flies when you're (having fun…) handling thousands, or even tens of thousands of packaging SKUs. Unless your company makes less than $10 million a year, that is. Those lucky few get an extra year to update their packaging.
Let's get down to the nitty gritty. What's actually changing?
Refreshed design

You will no longer need a magnifying glass to read your nutrition labels. Those of you without 20/20 vision, rejoice! The font of both the serving sizes and the calories will be larger and bolder This will help you make better (or worse) informed decisions on what you're consuming.

Updated information about nutrition science

There's a slew of updates to the nutrition science, breaking down more of the food and beverage that you are consuming. Daily values will be updated. Added sugars will be…added! Nutrient changes will be required. Actual amounts of said nutrients will be declared. And calories from fat will disappear…probably better that way anyways.

Updated serving sizes and labeling requirements for certain package sizes

Everyone knows it's almost too easy to sit down with a pint of ice cream or a 20 ounce of cola, and consume every bite or sip. But one pint of ice cream is 4 servings? And 20 ounces of cola is two? Not in my book. Not in any of ours, now! Companies will have to update their packaging to reflect new serving size guidelines. And we can all feel a little bit better about ourselves when we eat that extra bite, or sip that extra sip.
While it may seem like a lot of work (because it kind of is…), this is actually a well-needed change that many of us will benefit from, including the CPG companies themselves. How, you might ask?
Transparency

These new guidelines provide greater transparency between product owners and consumers. No more hidden sugars or unnecessary nutrition science. Everything is more out in the open, and companies will likely gain more respect for this, building their brand equity up. But they must be ready to educate regarding such changes. Study up!

Education

Consumers can now become better educated on the products they are purchasing, and later consuming. The new labels are easier to digest…figuratively speaking, of course.

Design Refresh

These changes give companies the opportunity to refresh their branding, if they'd like to take it a step further than just updating the nutrition facts labels. Anything to stand out on store shelves, right?

Structure / File Management

CPG companies: where are all of your assets? Are they organized and kept in one special space? This is the first update since 1990, so chances are, your assets may not be as buttoned up as they could be. These changes allow you to get your ducks in a row again. It took over two decades for an update to be made to the NLEA, but with the increased emphasis on consumer education, it may not be much longer until continued updates are made.
Hopefully, you're still with me because I have great news. We're here to help! From start to finish, we can be there every step of the way to guide you through the FDA label change initiative. Again, but how?
Discovery

We understand each customer has a unique, creative labeling and packaging development process. We can step in to help streamline your processes, allowing for greater capacity and productivity on your end.

Workflow

Our subject matter experts are ready to jump in. Understanding the in's and out's of the process, they will map out the current state of your packaging and labeling development, then provide and implement a future state to help you get everything moving along efficiently.

Technology

We apply innovative technological solutions, ensuring that your labeling and packaging development processes operate securely and in a timely way.

Implementation

Everything comes together in this stage. We implement the changes, and boom, your packaging is updated. Magic!

Further Opportunities

The fun doesn't have to end at the implementation phase. If you're interested in more than simply complying with the FDA's latest regulations, feel free to take advantage of our full-service creative studio. From ideation to packaging design to prototyping, we have you covered.
Remember, you only have two years to make these changes. Let's start now. Contact us to get the ball rolling on your labeling and packaging development processes. The sooner, the better!
---