Finishing & Mounting
Coloredge is a flexible, full-service shop widely acclaimed for its experience and attention to detail. From gallery pieces to personal collections, retail signage to large-scale exhibition and retail installations, our mounting and lamination division offers limitless options and ideas.
Substrates for Mounting
We can mount on dozens of vastly different materials, depending on design specs, duration of display, or use intent. We can even seamlessly mount up to 72 inches by 120 feet. Popular materials include:
Sintra
Lightweight, yet rigid and durable, with clean-cut edges. Sintra is versatile, and easily cut or formed into just about any shape imaginable.
Plexiglass
Your image is mounted either directly to plexi or printed onto various grades of photo paper and mounted to plexi to give your work a "glass-like effect." Options include finishes like clear, frosted, or milk – a wide range of colors and thickness.
Foamcore / Gatorboard
Economical and lightweight, both are ideal for displays that will have a short run, yet will still look world-class, especially with top-end lamination.
Other materials include: Kappa, Masonite, Aluminum, Steel, Wood, Acid Free Museum Board, and Vinyl Mesh.
Lamination
Lamination is the "icing on the cake," and no one does a sweeter job. We preserve the impact of your imagery with state-of-the-art protectants that can be applied in matte, semi-matte, luster, and glossy finishes.
Laminations on graphics for floor usage can be further enhanced with compounds that create abrasion and slip resistance. For pieces where protection from the sun and ink fade is paramount, our UV printing process can eliminate the need for lamination.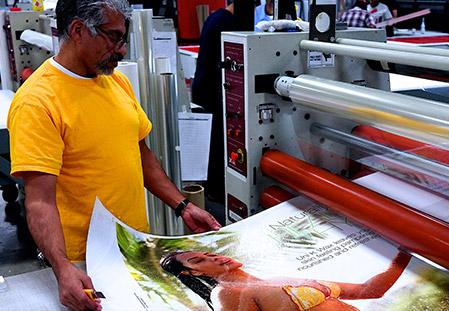 Take shape. Any shape.
Your perfectly mounted and laminated images can not only stay in optimal shape throughout their life-cycle, they can take shape in practically any form you desire. Coloredge maintains a full custom carpentry and manufacturing shop that can execute the most demanding ideas seamlessly and beautifully – with such quality in fact that quite a bit of our custom installations are for some the world's most renowned museums, including the American Museum of Natural History.